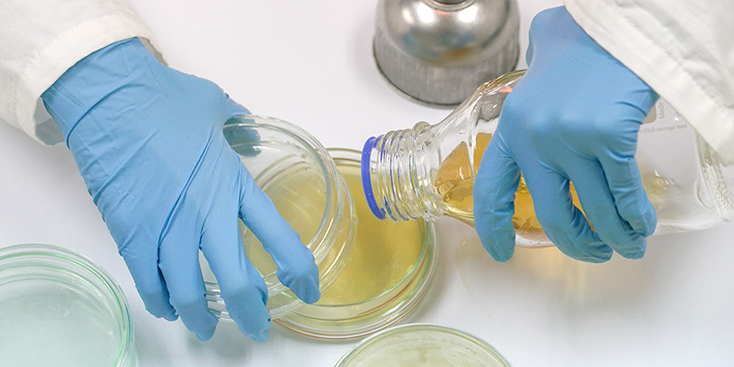 Our cGMP certified facility offers the right match for your media and buffers outsourcing needs.
Outsourcing of media and buffer preparation enables you to focus your in-housing bioprocessing capacities on core activities and maximizing manufacturing efficiency with ease of mind. Our team is ready to collaborate with all requests and offers the greatest flexibility and transparency to meet your needs.
Media Preparation Capabilities
Packaging

Standard 500ml/ 1L and any other large volume required

Lot Scale

Production scale of 200L per lot

Quality Control (QC)

pH
Endotoxin
Mycoplasma
Sterility Test
Osmolality

Formulation

Work with stock solution or blend formulations provided by you
Dehydrated formulation provided by you
Custom formulation

Water

Type I ultra-pure, clinical reagent lab water (CRLW) UV treated 0.2µm filtered high purity, type 1 pharmaceutical grade 18 MΩ-cm Super-Q water
Confidentiality
We understand the confidentiality of your formulation. All data relating to your formulation are held securely in closed systems.
Quality Management
All manufacturing process are conducted under ISO13485:2016 and cGMP certified facilities. Our quality management system ensures all stages of the process are conducted under robust and stringent requirements. With well-connected operating system, we assure traceability for every step and batch to batch consistency. We provide ISO and cGMP documentation imperative to the various regulatory requirements.
Supply Chain Management
We understand how raw materials are critical in media preparation. We have a stringent qualification process for all our suppliers.  In addition, raw materials are further QC and evaluated at our facilities to minimize risk. Any changes and updates in raw material or supply chain will be monitor and reflected to our client promptly.  
Logistics
Besides the capacity to produce at the volume and format required, we also have ample storage and warehouse capabilities for the raw material and the media produced. This enables us to maintain supply continuity and meeting clients' routine needs or even surged needs.
Why Us?
In house powder hydration requires utility, inventory, QA, GMP, prep rooms, holding tanks, in-house WFI operations, mixers and other equipment. And importantly experienced and dedicated staff.
By leaving the media and buffer preparation to us, we ensure consistency in both the processes and quality. Our experience team are accustomed to work with strict SOP, pay close attention to details and strong awareness of potential risk or contaminations associated with each process.
Outsourced liquid preparations assume risks, provide more efficient testing and comprehensive cGMP documentation, warehousing, inventory, and management, which translate to cost savings.