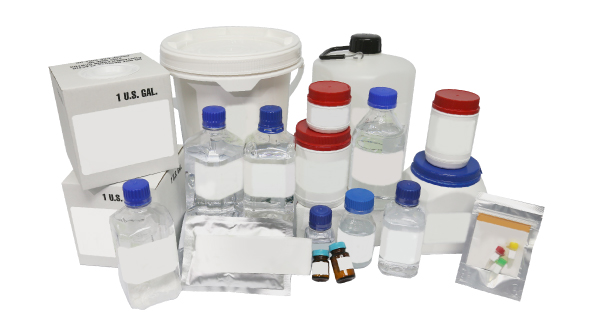 Reagents including various buffers, media and other liquid formulation are essential in various applications and stages in production. One challenge in buffer and media preparation would be managing the logistics and large number of components involved in the manufacturing and storage which requires extensive amount of time and labour, as well as facility space. 1st BASE's expertise in buffer and media preparation provides end-to-end solutions and assurance. We have many years of expertise in reagent manufacturing for the molecular biology and diagnostics markets. We currently manufacture various reagents serving different functionality for numerous companies on a continual basis.
Sterile Preparation
Dedicated clean room and controlled environments to handle bulk volumes for sterile filtration and dispensing. We have multiple compartmented ISO Class 7 certified clean rooms housing different processes.
Quality Standards
We are an ISO registered company with an excellent Quality Management System, and we follow strict SOPs for production and QC. Our ISO standard quality management ensure traceability and documentation in every process of the project.
Validation and Qualification Support
Our experienced team can provide support to compliment your design in terms of stability, validation, and qualification. Development of quality control procedures and strict release criteria to meet various requirement and specifications.
Endotoxin
pH
Osmolarity
Conductivity
Sterility /USP71
RNAse/ DNAse
Protein Absorbance
Documentation for Traceability and Evaluation.
Flexibility in Scale
Batch production in scales of 500ml up to hundreds of litres.
Scale up to daily output of 400L and more with consistency and stringent quality controls.
Small batch sizes are also available to cater to specific needs, such as research or cell and gene therapy applications.
Small batch pilot batches for evaluation and laying the groundwork for easy scale-up and provide assurances on quality and supply.
Enable organisations to stay capital-lean and maximise their limited resources most effectively.
Filling and Packaging
Different liquid filling machine are available to perform high throughput filling of biocontainers ranging from different sizes. Housed in the cleanrooms, the filling processes are performed in clean controlled environments with minimal particulates contamination. We also engage robotics and automation to further increase capacity and accuracy for filling.
Filling system for container sizes 1 mL – 10L Biocontainers
Flexible primary packaging and kit formatting
Packaging flexibility – tubes, vials, bottles, carboys etc
Labelling – brand logo, GHS, design
Material Sourcing & Management
Supply chain sourcing & managing.
Provide reliable, availability and delivery guarantees.
Save on cost and reduce complexity in handling and storage of raw materials and made buffers.